Your Donations Make Our Work Possible
Donating to the Rotary Club of Playa del Carmen Seaside is a powerful way to contribute to meaningful change in your local community. Your contributions are crucial as they enable Seaside Rotary to undertake various impactful projects ranging from improving education and health to ensuring clean water and sanitation.
Seaside Rotary maintains several ongoing projects that require donations to keep them going. Your donations help us to buy school supplies and provide scholarships to worthy high school and university students who otherwise would not be able to continue their education.
'Feeding the Future', our feeding program in the village of Torres de La Paz, is 100% donation driven. For just 1200 USD per month, our generous sponsors allow us to feed 70 children 6 meals every week!
Clean water and sanitation are a top priority in this region and contributions from fellow Rotarians and other generous supporters allow us to install and maintain these systems, helping to ensure that everyone has access to clean, safe drinking water.
The funds entrusted to the Rotary Club of Playa del Carmen Seaside are effectively managed and deployed where they're most needed, bringing tangible benefits to those who need them most. Every donation, irrespective of its size, helps Seaside Rotary in its mission to create lasting change in the lives and future prospects of the children living in this region. 
By contributing, you become an essential part of this transformative journey, making a real difference in the lives of at-risk children and families in Solidaridad and beyond.
How to Make a Donation
Bank Transfer
Donations may be made by Bank Transfer using the information below:
DIRECT TRANSFER
Beneficiary: Seaside Rotary AC
Bank Name:                        BBVA BANCOMER
Account Number:               012694001940583802
SWIFT:                                 BCMRMXMM
Paypal
The form below will take you to a secure PayPal page where you can pay with your credit card (no PayPal account required), or with your PayPal account.
Donation Frequently Asked Questions (FAQ's)
Question 1)
How much of my donation goes to those in need?
Answer
Seaside Rotary is made up of volunteers who donate their time. There are no overhead or administrative costs. Every dollar donated goes directly to helping those in need.
Question 2)
My Donation Page is in Spanish, how do I translate it to English?
Answer
If someone's page is in Spanish that is because they are in Mexico. If using the Chrome Browser they will be able to have it translated to English (see screenshot below with box asking if they want to translate to English).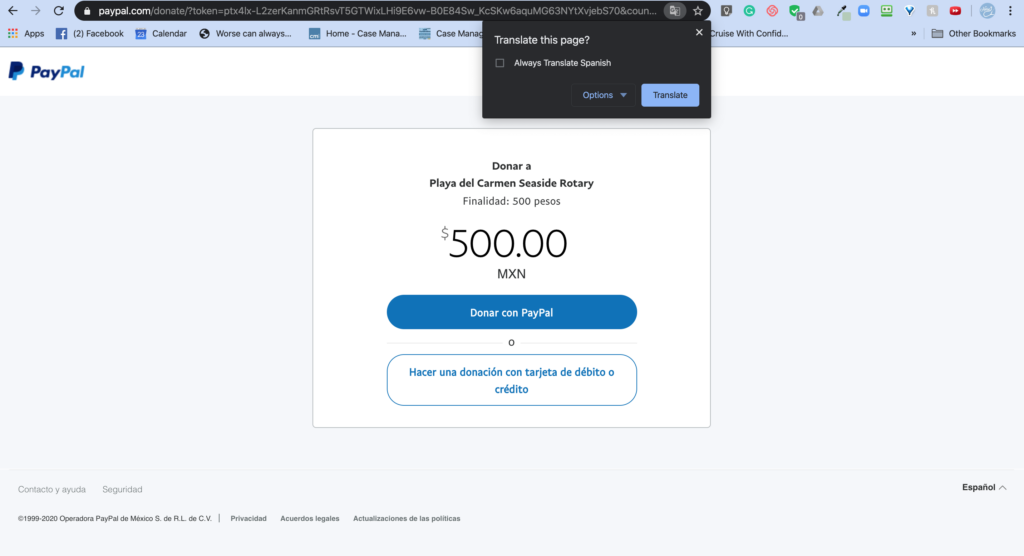 If not using Chrome there is also the option to click the bottom right and change to English.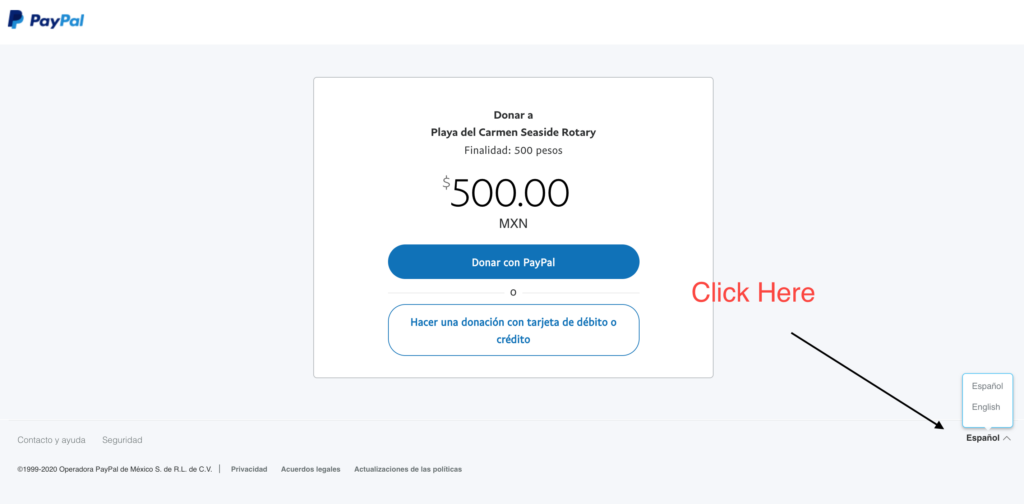 Question 3)
How can I pay with a credit card? How can I pay if I don't have a PayPal account?
Answer
PayPal no longer requires you to create an account. Click on "Donate With Debit or Credit Card" and enter your information.