Seaside Rotary is Helping to End Polio Now
Each year, in October, the Rotary Club of Playa del Carmen Seaside, along with Rotarians worldwide, participates in End Polio Now, a global initiative to increase awareness and raise funds to support Rotary International's ongoing efforts to eradicate this paralyzing disease for good.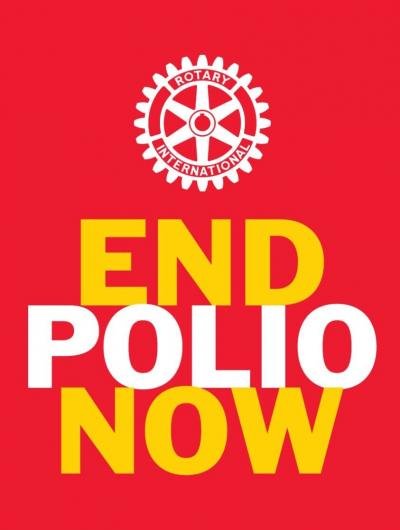 The History of Rotary in the Fight Against Polio
Rotary International has played a crucial role in the fight against polio, an infectious disease that has affected millions worldwide, particularly children under five years old. Their significant efforts towards polio eradication began in 1979 with a project to immunize six million children in the Philippines.
This initial foray into polio eradication was inspired by the success of smallpox eradication, sparking hope and ambition that the same could be achieved for polio.
Rotary and PolioPlus
In 1985, Rotary launched the PolioPlus program, the first initiative to tackle global polio eradication through mass vaccination of children.
PolioPlus has since become the model for the Global Polio Eradication Initiative (GPEI), an international partnership established in 1988 that includes Rotary, the World Health Organization (WHO), UNICEF, and the U.S. Centers for Disease Control and Prevention (CDC).
Rotary has brought its considerable resources and network to bear in this fight, not only in providing funding but also in awareness-raising, advocacy, and volunteer mobilization. The organization has contributed over $2.1 billion and countless volunteer hours to protect more than 2.5 billion children in 122 countries from this paralyzing disease.
One of Rotary's strategies for overcoming the hurdles is the employment of National PolioPlus Committees (NPPCs). These committees, composed of Rotary members, work with local health officials, governments, and global partners to maximize the impact of polio immunization efforts. They've been instrumental in negotiating ceasefires in times of conflict to allow for immunization drives, symbolizing the level of determination towards this cause.
Through its member network, Rotary has brought communities together to raise funds, build awareness, and advocate for government support. In some of the most challenging environments, Rotary members have risked their lives to ensure that even children in remote areas receive the polio vaccine. This hard work and dedication have driven progress that many thought was impossible.
Rotary's Fight Against Polio Today – Where Do We Stand?
Today, the ongoing efforts of Rotary and its partners have resulted in the reduction of polio cases by 99.9% since 1988. The wild poliovirus is now endemic in only two countries – Afghanistan and Pakistan. While the complete eradication of polio remains a challenge due to political instability, hard-to-reach populations, and logistical obstacles, Rotary remains undeterred. Its members continue to fundraise, advocate for political commitment, and raise awareness to bring the world closer to ending polio once and for all.
Rotary's work doesn't stop at polio eradication. Recognizing the need to keep health systems strong and ensure the continuation of immunization programs, Rotary has increasingly focused on providing ancillary support. This includes investing in routine immunization and health infrastructure, offering a holistic approach to healthcare, and maintaining an enduring legacy of their polio eradication efforts.
Today, Rotary continues to demonstrate what can be achieved when organizations come together with a common goal, making them an extraordinary example of the power of international cooperation in public health. The Rotary Club of Playa del Carmen Seaside is proud to play a part in these efforts.